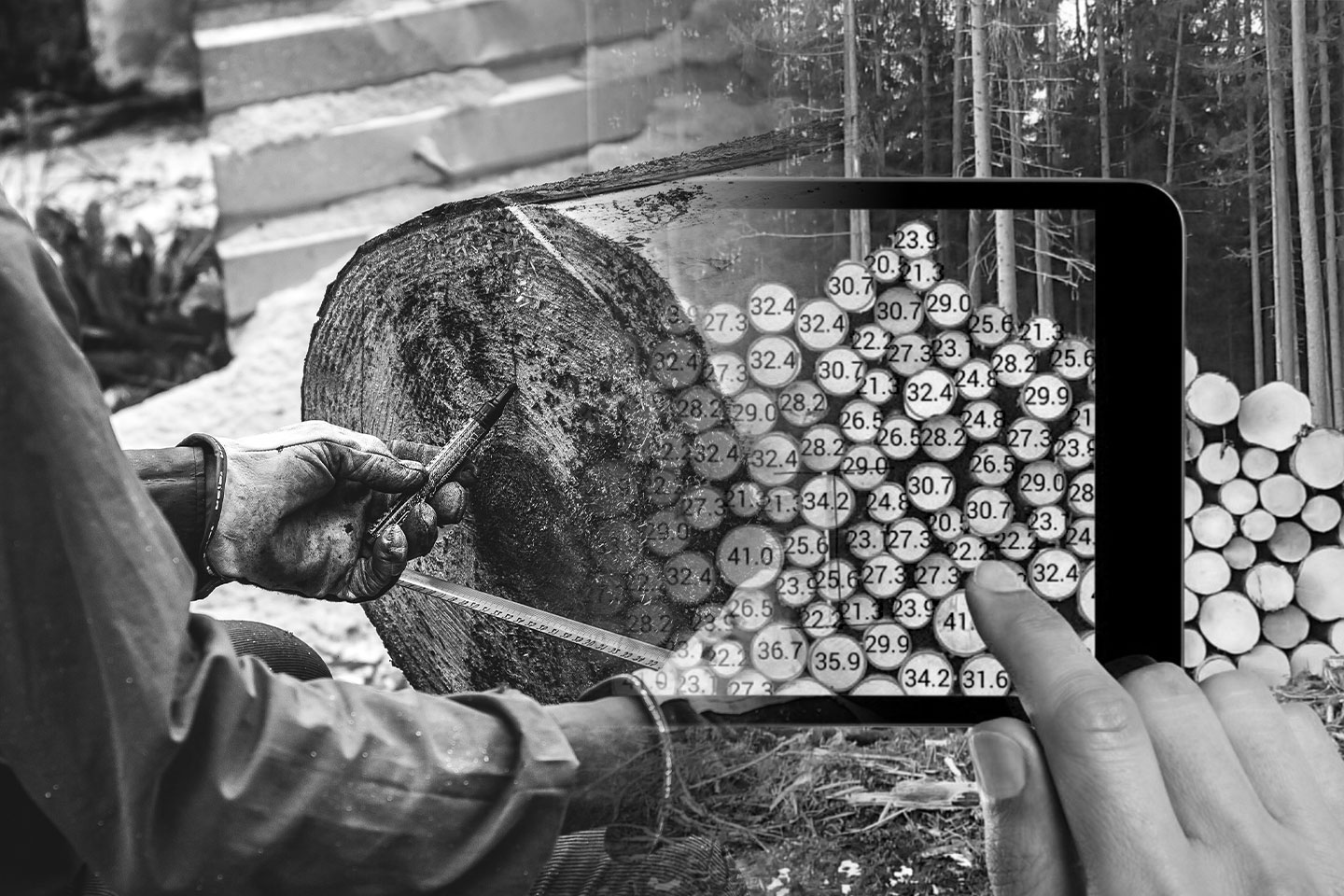 PROJECT Circular Economy SME Development
Digitalizing the Lumber Industry with Timbeter
Using digital technologies to improve timber measurement and to reduce waste in the lumber industry. Estonia
Bringing forestry to the digital age.
The main input for the lumber industry, timber is responsible for a USD600 billion market that is expected to grow by four times by 2050. It also accounts for 50% of the costs in the sector, without counting the environmental and financial costs of illegal logging – currently estimated at USD 5 billion annually. However, little has been done to optimize the timber production process, in a supply chain that still counts on pretty much the same methods as 300 years ago. This is due to an intricate and complex network of agents that lack the means and ability to make use of ICT and technological solutions, the type of digitalization that might hold the key to ensure global sustainability and to improve the efficiency in natural resource management. 
Although it has been slow to take hold, automated plantations, digital forest soil quality measurement and corresponding automatic fertilization, forest accounting using drones and lidar-based scanners, and fully automated logging are the main paths for innovation in forestry. But to overhaul the entire wood cycle, it is necessary to issue mobile tools that support the people directly involved in moving the supply chain along. Especially bearing in mind that, in addition to harvesting, felling and transport, the final costs are significantly influenced by the labor used for estimating volumes of timber, data processing and inventory management.
Timber measurement is one of the steps in this chain plagued by slow, inaccurate, opaque and wasteful methods – all of which contribute to illegal activities and environmental deterioration.
On the other hand it is also one full of potential for digital automation, from the actual measurement to streamlining the paperwork and planning involved. With these issues in mind, Timbeter has developed digital solutions for timber measurement and data-driven supply chain management. For this project, it is counting on cooperation with IDN and funding from EEA Grants to develop a smart, machine-learning and computer-vision based algorithm that enables to measure timber raw material ten times faster, five times cheaper and three times more accurate as compared to current industry standards, one that will also be offered to the Scandinavian market.
The following features are planned to be added to the current solution in order to develop a novel and highly enhanced product:
Logistics module for efficient logistics planning and tracking the cargo in real-time;

Sales module for generation of sales transaction documentation;

Interfacing with the data of harvesters for data analysis.
The project is composed of five main tasks, which will involve active cooperation of partners:
1 – Preparing for the development process, including the analysis of service and software requirements

2 – Solution development

3 – Development of software components and testing

4 – Piloting and improvement

5 – Support activities, including project management
We expect to have a disruptive impact on promoting a green and sustainable forestry sector with:
Decrease in paper consumption and fast exchange of information

Reduction of fraud with shipment tracking

Highly accurate new measurement standard

Reduced costs for processes involved in timber measurement

Improved usability with intuitive applications

Reduction of waste
This is the continuation of an initiative committed to using new technologies to improve efficiency in sectors that are crucial for a sustainable future. And IDN is proud to be a partner in this process.