16.12.2020
IDN – TEN YEAR REPORT – 2010-2020
This publication tells the story of IDN's contributions to a more sustainable future, in a bold attempt to sum-up ten years of intense and diversified activities. Please click on the cover page below to view the report and optionally download/print it: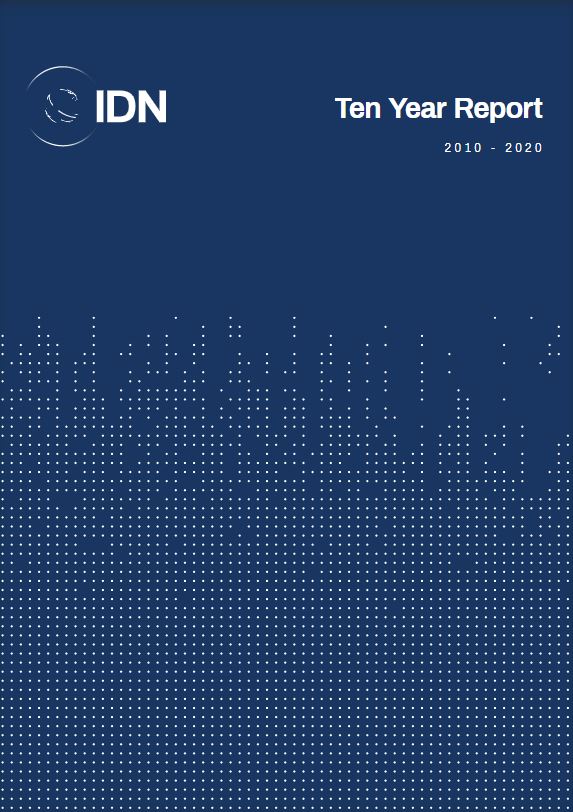 From the outset in 2010, we at IDN have shared experiences with diverse people in different countries from around the world. By fostering an interdependent network of professionals through our work in multiple projects, we overcame challenges directly connected to local realities, understanding the different consequences of global scenarios for governments, businesses, and communities. From this contrast between global and local, we saw opportunities arise for new ways of building a path towards a better future for all of us. In 2020, the year we complete our first decade of operations, it could be no different
At first, this year might not sound like one that offers much opportunity to celebrate: the ongoing pandemic, the point-of-no-return for climate changes, distrust in democracies and democratic processes, the rise of nationalism and discredit for multilateral cooperation, and systemic racism making yet more victims. To cite only a few, these were the news that filled the first pages, no matter where we stood, geographically speaking. Nevertheless, completing ten years of activities remains an indisputable landmark in our history, and a unique opportunity to revisit the reasons for our existence, our relevance, and motivations. This past year has made us, in different ways and degrees, examine why we are in business and why to do what we do – both as a company and as professionals. We have questioned what keeps driving us forward, the ways in which we have evolved and contributed to global, national, and local challenges, how far we've come since we started our activities, and, ultimately, how we are contributing to addressing the problems that 2020 was so adamant in presenting.
Our main takeaway? To work together globally for sustainable local development. IDN's very core purpose as a business serves to shift the scales in the opposite end of the issues we are collectively facing. We strongly believe, as a company and as individuals, that diversity and international cooperation are the keys to a sustainable future. It is only through a shared sense of existence that we can come up with new and more beneficial ways to produce and consume, to interact, and to find value in every individual. This publication tells the story of our efforts to contribute to change, in a bold attempt to sum-up ten years of intense and diversified activities in a few pages. You are more than welcome to join us and, hopefully, feel inspired by a different future that is not only possible but is already in the making.
The IDN Team
November 2020