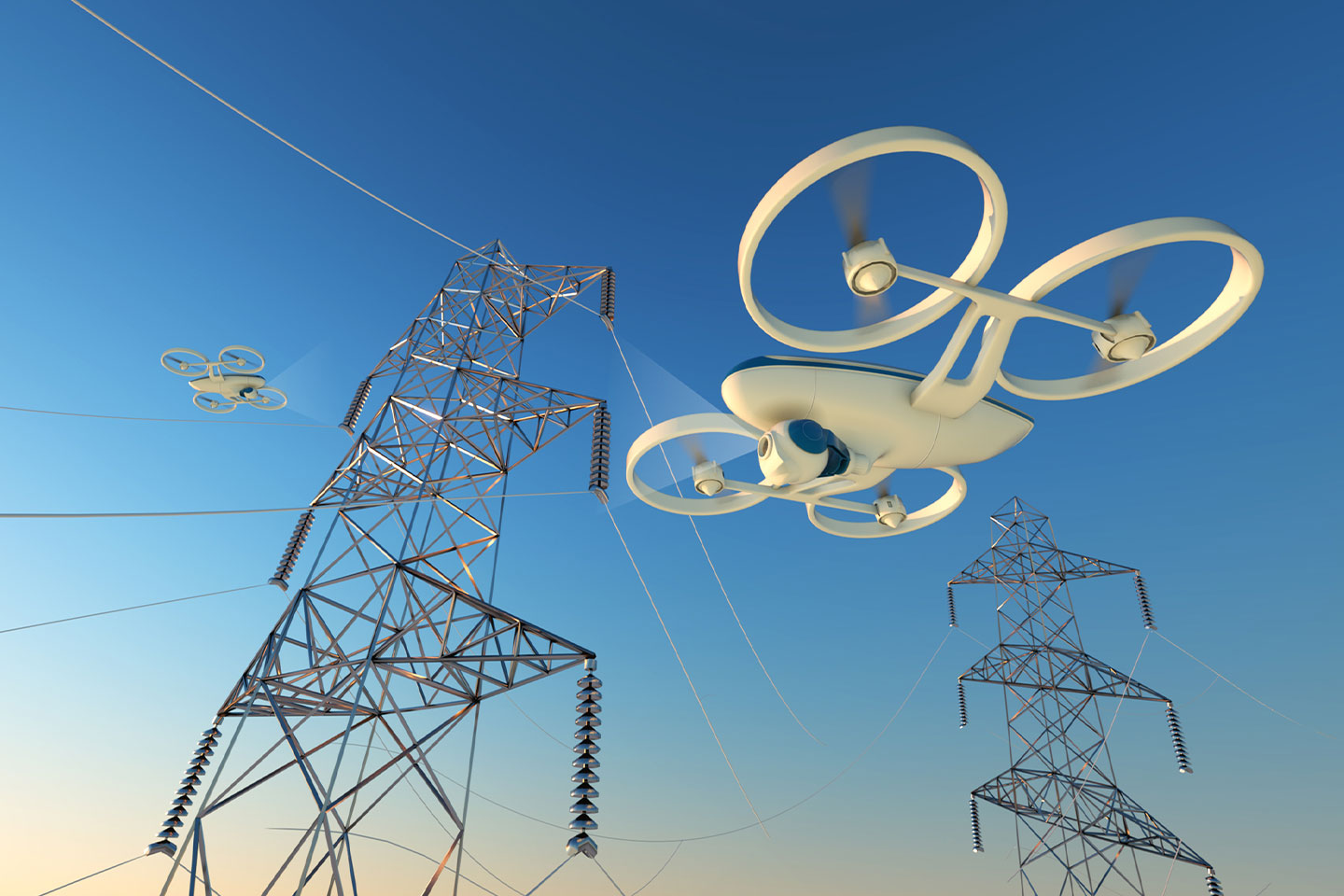 PROJECT Entrepeneurship SME Development
uBird Autonomous Power-Line Inspection
Improving power grid maintenance with drones, sensors and a digital twin. Estonia
Enabling the use of data for improved infrastructure. 
New technologies are providing ways to ensure the faultless work of power grids. Today, many administrations already have digital twins to keep up with operational metrics and to simulate power losses. Such endeavors make intensive use of data, which can be expensive to store and analyze, as its quantity increases. As a consequence, much of the raw data collected during inspections is deleted after it is used. Hepta Airborne believes that eliminating raw data is a waste of the hard work put into harvesting it. By continuing to do this, we are neglecting potentially useful information that could provide rich insights about how to keep our power-lines safe and functioning.
To address this issue, Hepta is counting on the partnership with IDN and funding from EEA Norway Grants to develop uBird: the first end-to-end power line inspection technology. The solution uses high-end technologies to automate data analysis of power-lines, as well as enables digitalization of the whole grid infrastructure on a large scale. It consists of the following modules:
Real-time machine learning capability for sensors;

Autonomous data collection and automated drone post-flight data analysis;

Big data platform processing;

Digital Twin for Maintenance.
The company's technology has proven to detect anomalies not visible by any other means and to track and pinpoint how defects develop over time. Thus, it is expected that the implementation of uBird will help to move towards more proactive maintenance practices, which will save millions of euros in repair costs for an average client. A central element of the project is to increase the capacity of data processing, which will increase automated analysis from 30% to 90% of the data collected during inspection. Furthermore, a digital twin will utilize and merge, into one coherent environment, the diverse data streams, such as:
Data from autonomous and in-depth drone-inspection;

Alternative and existing data sets (e.g. satellite data, IoT sensors attached on poles powerline technical designs, Land Board information, data collected by on-ground and/or helicopter inspections);

Environmental data and region-specific conditions (humidity, soil information, various weather scenarios – rain, snow, wind, icing, sunlight, vegetation growth models).
The merger of various sources enables us to perform advanced analytics and provide detailed maintenance predictions, for example:
Technical analysis of big data from various sources;

Tree fall area locations during heavy wind conditions;

Vegetation growth modeling;

Poles with higher potential to rot;

The occurrence of rust;

Pinpoint critical line elements, which need to be replaced.
The project consists of five interlinked tasks:
1 – Research and analysis for business validation – completing a detailed analysis in close cooperation with end-users;

2 – Fine-tuning core technologies to create robust and high-performance sensors;

3 – Progressing the current data processing MVP to a fully market-ready and highly scalable solution;

4 – Developing the prototype of the digital twin framework;

5 – Piloting the solution and new business model with potential direct clients and partners.
This cooperation will bring about new ways to see and analyze crucial infrastructure. It is putting the most advanced technologies to work and innovating for the improvement of services that will have direct positive effects for individuals and governments.