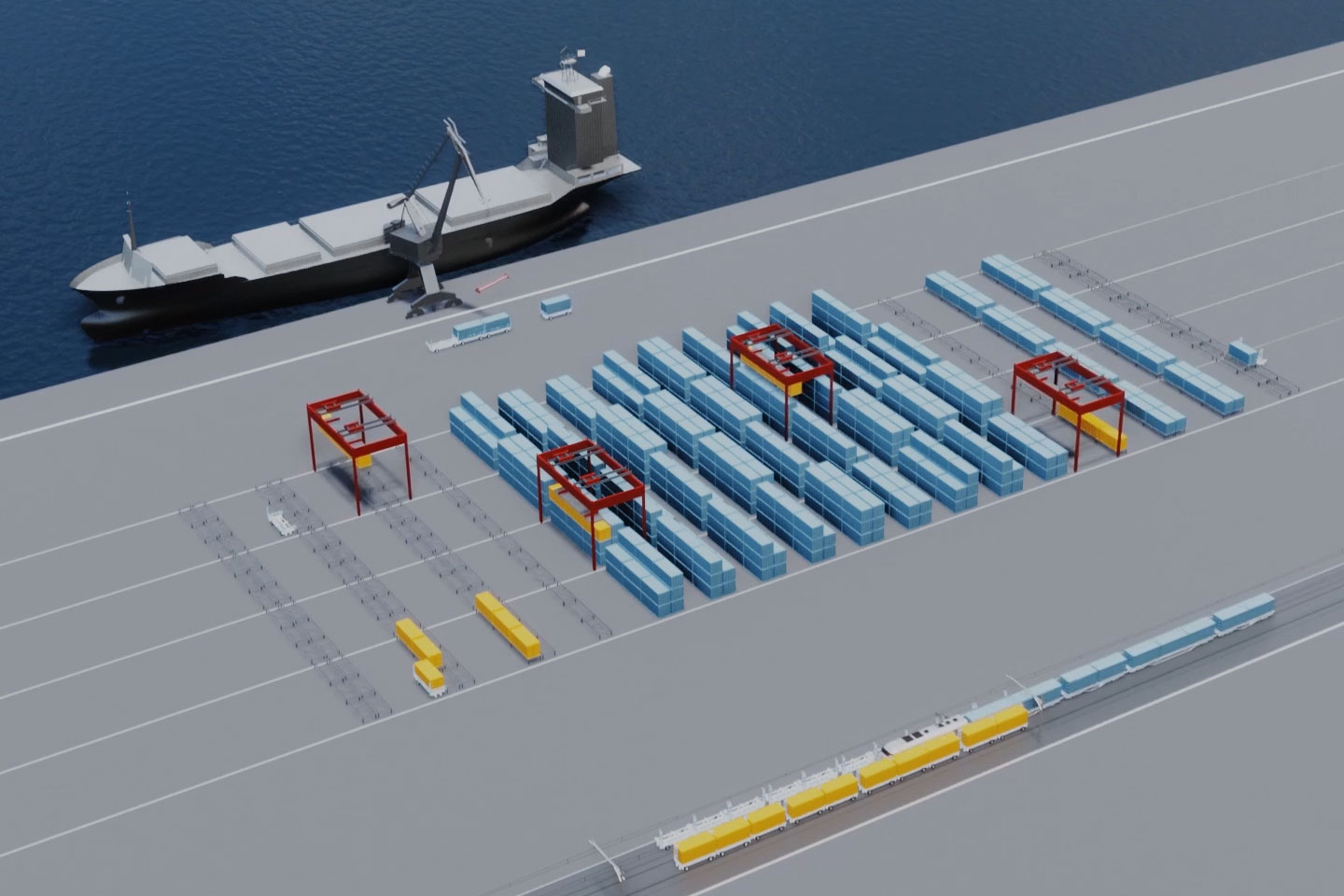 PROJECT SME Development
Port Automation
Handling containers & interconnecting port logistics Portugal
Optimizing stevedoring to increase competitiveness in Portugal
Loading and offloading ship cargo (stevedoring) is a key operation in maritime logistics. Performing it efficiently creates positive cascading impacts in the entire supply chain, from reduced costs to faster delivery times – which, in turn, translates to more quality products and services, ultimately increasing customer satisfaction. The Portuguese economic performance has for long been closely tied to sea trade, what makes it especially sensitive to improvements in its commercial ports infrastructure to impact the competitiveness of its companies, including at the level of the respective hinterland – the land area defined by the economic influence of the port.
This EEA Grants funded project aims to develop a prototype for final technical and commercial validation of state-of-the-art equipment to better integrate railway and port activity, and will demonstrate relevant advances in commercial ports, as part of the financial mechanism's Blue Growth program. Its objectives are:
Automate sea ports and logistics terminals, speeding TEU loading on railway wagons, in response to increased transport of goods by container shipping due to the increased e-commerce;
Allow short-term change of gauge using a simple method of sharing lower chassis without having to change existing infrastructures (e.g., Iberian track gauge distinct from the UIC gauge used in rest of Europe);
Optimize the use of existing railway lines, to increase the transport of goods and their better alignment with passenger trains.
By completing the activities under its scope, the partners will create an automatic container loading and unloading equipment between railcars or autonomous tire trucks and vehicles.
One of the most innovative components of this project, as shown in the promotional video below, is the Side Sliding Loader (SSL-V), which:
Allows the lateral loading / unloading of containers, enabling electric trains and respective catenary inside the port;
Increases the frequency of containers transported by rail;
Increases the turnover of containers at the ports, reducing the space needed for parking.
Increases the capacity of existing ports by conserving or increasing their employment.
In cooperation with IDN, AP Bridge Construction systems will be able to exchange knowledge and expertise with international experts, contributing to strengthened cooperation between Norway and Portugal. This relationship is further justified by the similarities in the way both countries make strategic use of their shorelines for economic development. The expected outcomes of the project are:
1. Development of a complete prototype system;
2. Development of cargo, port and vehicle management platform;
3. Integration and validation of the complete system (A-Wagon + Buffer + Platform, autonomous and with load management);
4. Testing and validation of complete system in real controlled environment;
5. Preparation for commercialization;
6. Project promotion and dissemination of results;
7. Demonstration of the validated solution in operational context;
8. Technical and financial management of the project.​